Welcome to Hindman Family Dentistry! Your Smile is in Safe, Gentle Hands
Our family-friendly practice is here to ensure everyone in your family has a healthy, beautiful smile. Our team, led by Dr. Joshua Hindman, understands your smile is one of the most important accessories you can wear. We have invested in training, customer service, and technology to provide the best care possible. So, if you are looking for a dental home in Sioux City, Iowa, you can entrust your smile to Hindman Family Dentistry. We will go the extra mile to ensure you achieve all your dental health goals.
Regain your best smile with our dental care services
We have carefully selected our dental services to suit every member of your family. Do you need a simple dental cleaning? We've got it. Need dental veneers, implants, or crowns? That's our bread and butter.
Here is a sneak peek of our dental care services.
We are excellent communicators, but we understand communication is two-way. While we give you lots of helpful communication, we also listen to you. Rather than pushing information, we give you options, and you make the final decision. Zero-pressure dental care is our style; judgment-free dentistry is our culture.
Welcome to your new dental family!
Our dental office provides comprehensive care for patients across all age groups. From children and teenagers to adults, our team is dedicated to ensuring all your oral needs are cared for. To enjoy our first-rate services, please call (712) 274-2228 to join our dental family.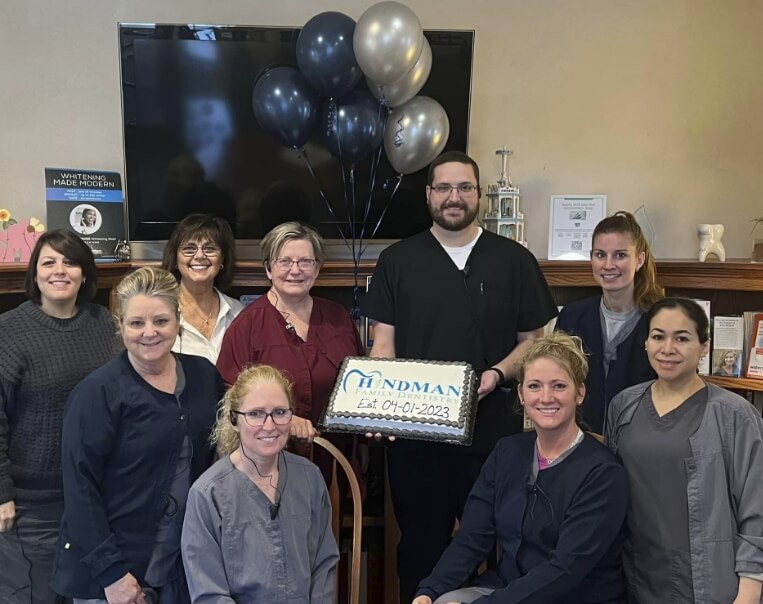 YOUR DENTIST Dr. Joshua Hindman
"Dentistry is a unique combination of medicine and art that can improve and maintain a patient's oral health for a lifetime."
My mission is to provide individualized care to patients of all ages and help them achieve the highest possible level of dental health. Dr. Hindman is a Sioux City native. He attended Heelan High School and graduated from Briar Cliff University with a Bachelor of Science in Biology. Dr. Hindman attended the University of Iowa College of Dentistry, where he earned his Doctorate of Dental Surgery.
OUR RESULTS Smile Gallery
We Help You Afford the Care You Need
And Deserve!
Hindman Family Dentistry accepts most major dental insurance plans and
will work with you to help you understand your benefits.
WE ACCEPT ALL MAJOR CREDIT CARDS